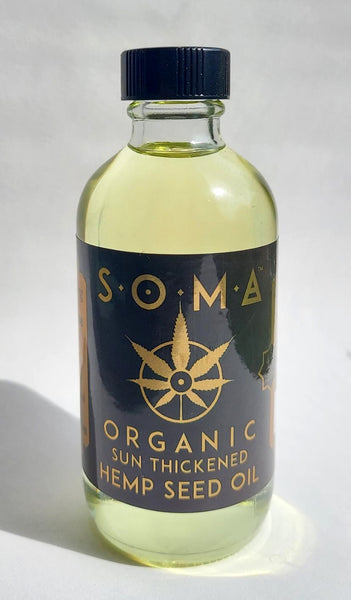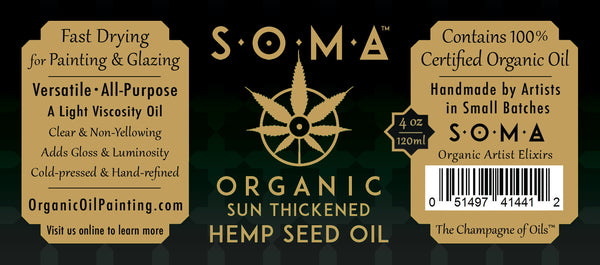 SOMA Organic • Sun Thickened Hemp Seed Oil • 4oz.
Sun Thickened Hemp Seed Oil • 4oz.
Light viscosity, hand-refined, organic hemp seed oil painting medium.

Truly a delightful oil, our hand-refined Liquid Gold Hemp Seed Oil is exposed to direct sunlight for an extended period of time, resulting in a lightly thickened oil that is clear and bright. It is a relatively non-yellowing oil that dries rapidly. This oil is extremely versatile. It can be used in combination with a solvent to create a continuum of lean to fat layers for indirect work, or can be added directly to oil paint for alla prima approaches.

Sun Thickened Hemp Seed Oil is in a category of its own, exhibiting properties that are hard to find in any other medium. Fast-drying, imparting controlled flow, brilliant clarity and a satin finish, this is one of our favorite mediums to produce and to use. Made in small batches, slowly thickened and pre-polymerized, there's nothing quite like this oil.

Fast Drying for Painting & Glazing
Versatile - All Purpose
Clear & Non-Yellowing
Adds Gloss & Luminosity

Sun Thickened Oils can be used in a variety of ways:
- directly as an addition to oil paint
- as a basis for glazing mediums
- in mixed-technique emulsion formulas
- to "oil out" dried lower layers and paint into the wet oil
- as an isolation layer between coats, or as a pre-varnish

Notes on our Sun Thickened Hemp Seed Oil:
Thickened for months in direct sunlight, this is a luminous, medium-light oil that dries rapidly when added to oils or used in glazes. A clear, light syrup that still exhibits a lot of fluidity under the brush. Greatly reduces the need for resins in glazes. Facilitates seamless transitions and luminous veils in semi-transparent painting, deepens and enhances colors. 

When observing a fat over lean painting process in layered work, a solvent can be added to thickened oils for early lean layers, then gradually reducing solvent toward a pure oil in final layers. In this manner, indirect paintings can be completed using just one oil and a solvent.  Traditional solvents include Pure Gum Spirits of Turpentine, Oil of Spike Lavender, or even petroleum-based Mineral Spirits.  Eco-Solve is a modern option that eliminates fumes associated with many other solvents.


Available here in 4oz. bottles or as part of our 1oz. sample packs.
---